Standard Tensioning Systems Are No Match For Advanced Belt Technology
The Eclipse Premier & Ultimate Eclipse Arms offers what's truly state-of-the-art technology in the awning world! Not only are their ABT belts larger and stronger, the elbow is large and incorporates wider arm profiles, including strength and durability. These arms also have their standard brass bushings replaced with sealed ball bearings guaranteeing a smooth and quiet operation for years to come! In fact we are so confident in this proven technology, that we extend a LIFETIME WARRANTY on their framework!
The Eclipse brand exclusive ABT arm belt is hidden – a visually clean finished look
21% more arm tension than our other Eclipse models – this provides a stronger, tighter fabric
Tested to 72,000 cycles – 20% more expected life than other Eclipse models
Thicker, contoured arm profiles – for reduced arm deflection
Sealed dual ball bearing elbows with a larger radius curve – smoother operation and better arm tension
Eclipse Is The First To Offer CB3 Technology That Is Built To Last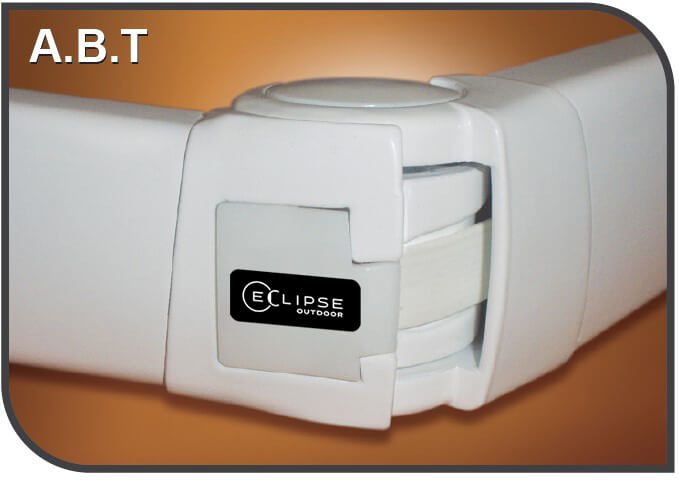 The advanced design of Advanced Belt Technology consists of 9 high carbon steel cables enmeshed in a poly carbon UV-resistant, or PVC, covering. This PVC covering prevents the usual wear and tear caused by traditional chains and cables. The result is a beautiful awning that will remain corrosion-free for many years to come.
ABT Technology's Many Benefits Are Taking the Awning Industry By Storm
The flat and flexible belts in Advanced Belt Technology significantly improve the tension transmission of the arms. This provides more durability and strength than any other system. The flat shape of the ABT system also creates the perfect aesthetic finish; that makes it better than other types of mechanical tensioning systems in terms of design and presentation.
The mechanical resistance features that ABT provides, along with its chemical stability, result in a product that has been proven to last for 60,000 cycles. The combination of quality, aesthetic appeal, and durability of Advanced Belt Technology makes this product truly unbeatable.
Dedicated to Providing Our Clients with Industry Leading Products
We are a leader in custom made shading systems, and other complementary products, for commercial and residential use. We are dedicated to providing our clients with the very best outdoor living products that will make your neighbors and guests green with envy.
Are you interested in learning more about the benefits of ABT or any of the other products that we offer? Call us at (800) 501-3850 to be connected with an Eclipse Shading Systems authorized dealer today. We look forward to your call.