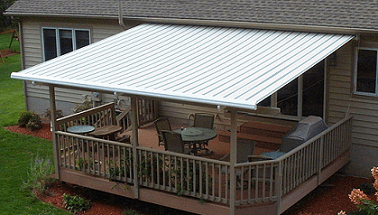 Let us introduce you to a new member of the Eclipse Shading Systems® family. SunRoof Plus is our three-season retractable, motorized, longer projection awning that is designed especially for windy, rainy, or sunny weather. In fact, Eclipse engineers designed SunRoof Plus to be rugged enough to handle winds up to 23 miles per hour (Class II wind speed rated). The handheld transmitter or wireless wall switch easily operates your SunRoof Plus and when you're not using your new Eclipse shading system, retract the awning and protect the fabric in the aluminum cassette box. Whether you choose the SunRoof Patio awning or the Pergola SunRoof awning, the most popular choices for awning fabric are the hundreds of selections of colors and designs with Sunbrella 100% acrylic fabric or specialty flame retardant vinyl laminated fabrics. The Eclipse SunRoof Plus is ideal for home or commercial shading use and protection from the wind, available in 19'8" wide x 16'5" projection or 16'5" wide x 19'8" projection.
The Eclipse SunRoof Plus retractable motorized roof system is available in two different models. Which one is right for you?
o Patio SunRoof Plus: Attaches to an existing wall, incorporates front cross member, matching white powder coated aluminum posts
o Pergola SunRoof Plus: Mounts on top of an existing structure like a free-standing pergola, or over an outdoor sunroom
When you want to extend your outdoor living and entertainment space with three-season protection from the elements, talk to your local Eclipse dealer about SunRoof Plus and make the selection that is right for you. Your home or your business will benefit from the reliable dual protection from sun and rain provided by the Eclipse SunRoof Plus awning. Enjoy the great outdoors with three-season sun protection and comfort under an Eclipse SunRoof Plus.
THE ULTIMATE SUNBLOCK™