Hosting a backyard soiree is a blast, but sometimes it can be a struggle to find fun entertainment ideas for your guests without spending a ton of cash. This year, throw a fun and festive bash on the cheap! Take advantage of these five low-budget ways to entertain in your backyard.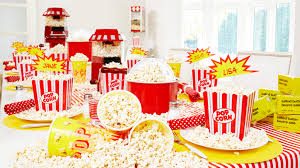 1. Throw a Popcorn Party
No shindig would be complete without a few delicious snacks! If you're new to backyard entertaining, try throwing a "popcorn party." Set up different flavors of popcorn and allow guests to serve themselves, buffet style. Here are a few of our favorite recipes to add to your popcorn bar:
• Confetti: Drizzle popcorn with melted white chocolate and sprinkle with sprinkles.
• Red Hot: On a baking sheet, drizzle melted white chocolate over popcorn. Then, sprinkle with Red Hots, Hot Tamales and red sprinkles.
• Cheesy: Pour melted butter over the kernels. Then, mix together ½ cup cheese powder and 2 tsp. mustard powder and pour over the popcorn!
Total Cost: $10.00 per recipe (less if you already have sprinkles and popcorn!)
2. Have a Glow-in-the-Dark Ring Toss Tournament
Ring Toss is a classic backyard game, but you can add a glow-in-the-dark twist for next to nothing. To make your own glow-in-the-dark ring toss, purchase some glow stick necklaces, a 4×4 wood block (or scrap wood) and three 3/8" dowels (these will be the stakes you toss the rings onto).
Total Cost: $15.00
3. Host an Outdoor Movie Night
Transform your backyard into an outdoor theater with a few materials and a little ingenuity. We love the idea of making your own movie screen with king-size bed sheets. If you don't want to use bed sheets for the movie screen, you can also grab projector screen fabric on Amazon. Check out sites like Ebay for an inexpensive projector. Then, sit back, relax and enjoy a late night movie!
Total Cost: $63.00 (not including a projector)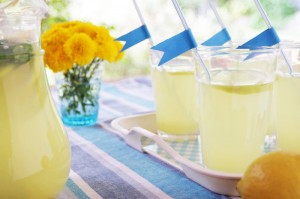 4. Serve a Signature Cocktail Menu
No matter what type of backyard fun you're having, alcohol is easily one of the biggest expenses of any party. Find a happy medium between breaking the bank and reviving Prohibition by limiting your supply to a signature drink. Serve up themed concoctions depending on the celebration! Then, on your invitations, indicate the signature drink that will be served and encourage your guests to BYOB if they're not a fan of it.
Total Cost: $45.00
5. Challenge Friends to a Game of Backyard Twister
Turn your backyard into a game of Twister! Trace a large mixing bowl on top of a large piece of cardboard (a pizza box works well). Then, cut out the circle and use that as your stencil. If you'd rather not spray paint your grass, use Krylon marking chalk instead (you can find this right next to the spray paint aisle in your local home improvement store).
Total Cost: $25.00 for 4 colors of spray paint