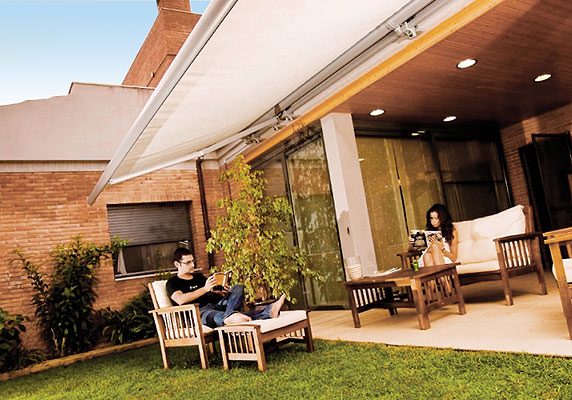 Don't you love watching the commercials and television shows where you see a group of people sitting outside on lounge chairs, relaxing and enjoying the beautiful weather under the shade? Did you see how happy and free they all looked? Don't you want to enjoy that feeling for yourself? If so, you're in luck, because it's possible when you begin living life under the awning, the retractable awning to be more specific. Retractable awnings are the perfect way to expand your outdoor living space while keeping you cool and comfortable during the hot summer months. A retractable awning can even keep you dry during summer rain showers so you can still sit outside and enjoy the day without the worry of getting wet.
When you discover the right shade systems retractable cover, your whole world will be transformed. Just imagine, no more feeling as if you've been trapped inside your home by weather you have no control over. No more hours of endless cleaning after your next get-together. Your outdoor space can finally be fun and functional once you begin to explore the world of retractable awnings.
For instance, if you're looking for something that will complement the look of your home while still being functional, you'll love the cassette awning. Cassette awnings can cover a great deal of space while also allowing you to extend or retract the awning to the length you need. You can view a number of cassette awning pictures to get a better idea of their versatility. In the available cassette awning pictures you'll notice that people enjoy using them on their decks or patios, around their pools, and even on their porches.
Another option is the exterior zipper shade. An exterior zipper shade is a great shade systems retractable cover option to consider when updating your outdoor space. It works by enclosing any outside space you choose, keeping bugs out and relieving the heat and glare from the sun. This provides you with a comfortable oasis of space that you can call your own. The best part is that the zipper shade can easily be raised and lowered without much fuss, so you can open up your space any time you choose. You can spend your entire summer outside in comfort without having to worry about the oppressive heat, sunburns after you finish swimming, or unwanted bugs in your space. It just goes to show you, life under the awning is the right way to live.