Do your outdoor living areas need a new look? Check out these decks, patios and landscaping then try the stylish updates on your own outdoor spaces.
Perk Up a Patio With Pavers A great option for upgrading a typical poured-concrete patio, concrete pavers are moderately priced and come in a variety of sizes, shapes and colors. One advantage of using pavers is that they're easier and less expensive to repair than a concrete slab — if there's a paver that's stained or cracked, you can simply replace it or, depending on the pavers you have, just turn it over.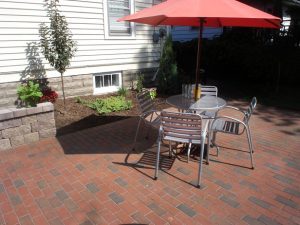 Choose Clay for Classic Style For a timeless look, opt for clay pavers on your patio. They're a tried-and-true choice, thanks to their durability and superior color retention. As with any type of flooring, it's important to start with a level base when laying clay pavers. If you start with a solid subfloor, your patio will look professionally installed and will last for a long time.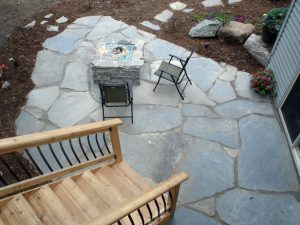 Go Natural With Stone Incorporating irregular flagstone into a patio brings a natural feel to a hardscaped space. Not only does the flagstone break up the lines of the architecture, it also provides large, flat areas to set furniture on. The stone is heavy, so you'll need lots of hands or machinery to get it in place.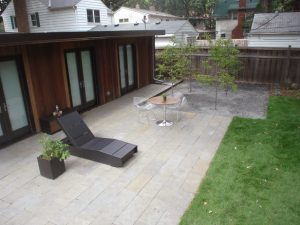 Furnish for Less Need a place to sit on your newly installed patio? Consider purchasing ready-to-assemble furniture, which is often less expensive than pre-built furniture. Since the manufacturer doesn't have to pay someone to assemble the pieces, the cost savings are passed on to the buyer.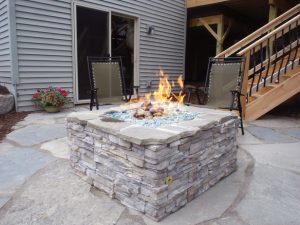 Heat Up Your Patio Paired with some comfortable furniture, a fire pit can turn a typical patio into an inviting gathering place. If your city doesn't allow a traditional, open wood fire in a backyard, a natural gas fire pit lets you have fire at the flip of a switch.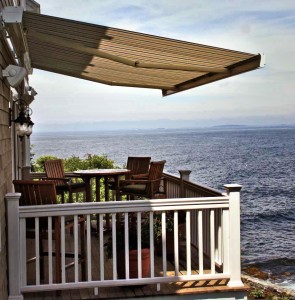 Install and Awning Awnings allow you to get the most of your patio all year round. They provide sun where you want it and shade where you need it and help protect your patio furniture AND your skin.