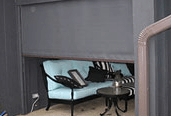 The perfect accessory to your 13-foot Total Eclipse, Eclipse Cross Arm, and the Eclipse retractable awning is our top selling Eclipse Drop Shade. When you are dealing with a low sun exposure problems, Eclipse Shading Systems® has the solution. Attached to the front of your existing Eclipse retractable awning, you can extend your Drop Shade for up to 39 inches of vertical shade. Motorized or manual, the Drop Shade is easy to operate and is available in widths of five to twenty feet with projections up to thirteen feet. That's a lot of extra sun protection for your home.
We at Eclipse Shading Systems are committed to providing you and your family with the very best in solar protection. The Eclipse Drop Shade offers you a selection of four different Qualicoat powder coated frame finishes and is available with Phifertex Mesh and a wide selection of solid acrylic fabric to match your existing Eclipse retractable awnings. The Eclipse Drop Shade retractable awning accessory comes to you with a limited lifetime warranty.
Sun Protection Any Time
For late afternoon, early morning, or any low sun exposure, Eclipse Shading Systems offers you the Eclipse Drop Shade accessory to ensure you have the touch-of-a-button solar solution you need. Accessorize your Eclipse retractable awnings with the Eclipse Drop Shade. Enjoy sunny days knowing you have the full benefits of protection from damaging UV exposure, reduced indoor temperatures, and no sun glare.
THE ULTIMATE SUNBLOCK™