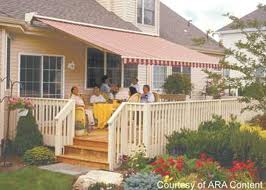 As the sun intensifies, you begin to think about summer fun and entertaining on your deck this summer season. Your Eclipse retractable awning looks as good as it did the day it was installed and has given you years of energy savings by reducing heat gain in your home. You enjoy shading your patio on hot sunny days so that you and your family can relax and enjoy summer fun, keeping you cool and safe from the effects of the exposure to harsh rays from the sun. Now it's time to add more shading to your home, knowing it will be a worthwhile investment. Eclipse Shading Systems® will consult with you at your home to suggest additional options to expand your shading system. Our exclusive products include retractable deck and patio awnings, retractable window and porch awnings, freestanding butterfly awnings, retractable exterior solar screens and retractable interior solar shades all custom matched to your existing retractable awning and your tastes
Eclipse is proud of our reputation for excellence in customer service. Our professionalism and products have earned outstanding 5-star overall rating in performance and we consistently exceed our customer's expectations. Our customers recommend Eclipse as the best awnings and service available in the shading products industry.
Eclipse offers the widest selection of awning fabrics and designs with patterns and colors to match your existing awning, adding to the beauty of your home, and enhancing your outdoor living space. Entertain in luxury and comfort with shading by Eclipse. You will be providing increased protection for your family, controlling the sun on your patio, while blocking sun glare indoors, preventing damage to your interior furniture and carpets.
THE ULTIMATE SUNBLOCK™