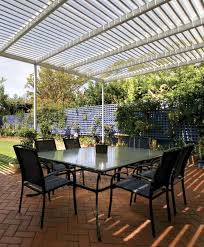 It took the better portion of a year to make all the plans for a surprise 65th wedding anniversary party for your grandparents. It's just the family, but that still means making arrangements for 25 people to come from all parts of the country, accommodations, and meals. You're honored to host this gathering and looking forward to seeing cousins, aunts, and uncles and getting caught up on the latest happenings in their lives.
You just purchased your first home and wanted the best possible shading as well as the best solar protection for your family, so you researched retractable awnings and found your local Eclipse Shading Systems® dealership. The fun part was selecting an archway entrance from the side of the house to the back yard and having an Eclipse Pergola SunRoof Plus installed to create a secret shady spot for quiet retreat from the rest of the yard.
The Eclipse SunRoof Plus retractable motorized shading system is available with fabric selections in colors and designs from Sunbrella to match your existing awnings and in two different models: The Patio SunRoof Plus can be attached to any existing wall and the Pergola SunRoof Plus mounts on top of an existing structure like a freestanding pergola or over an outdoor sunroom.
This big family reunion was carefully planned to honor and celebrate your grandparents, but you look around the back deck and the yard and don't see them anywhere. You step down onto the grass and peak around the corner and there they are, sitting together under the Pergola SunRoof Plus swinging slowly in the glider and holding hands.