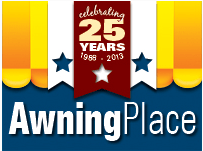 When you want to expand your outdoor living space and bring added comfort to your home on those hot sunny days, Awning Place has three locations to serve you in Cheshire, Glastonbury, and Guilford, Connecticut. Helping customers throughout Southern New England select the Eclipse solar shading solution that is right for their home is what Eclipse Shading Systems dealerships do.
Awning Place is proud to be an Eclipse Shading Systems dealership and shares our commitment to the best in solar protection with the highest standards of products and customer service. Together we take delivering the "Eclipse Excellence" experience to each consumer seriously. And that experience goes on and on, every year you own and every time you roll out your retractable awning.
The heavy duty Total Eclipse, Eclipse retractable awning, or the economical Eclipse Lite retractable awning will provide you with shade at the touch of a button to protect your family from the damaging UV rays of the sun and keep your deck or patio cool and comfortable. Eclipse retractable awnings will keep your indoors cooler too because they stop the heat from radiating through walls and windows, saving you energy dollars and preventing fading of upholstering and carpet.
To see Eclipse Shading Systems E-Lite, Eclipse, and Total Eclipse along with the many selections of colors and designs available for awning fabric, visit Awning Place's show rooms in Guilford, Glastonbury, and Cheshire, Connecticut to find out what people have been talking about since 1988.
Celebrating 25 years of satisfied customers, Awning Place has three convenient locations throughout Connecticut to serve Eclipse Shading Systems customers with retractable awnings to keep homes cooler and bring comfort to their backyard oasis.
THE ULTIMATE SUNBLOCK™