No matter where you live in the US, energy costs are rising. You can reduce your energy bills with the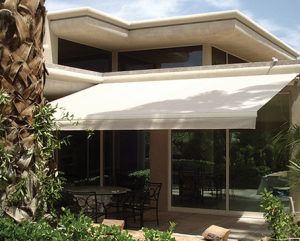 help of shading systems installed on and in your home. Studies confirm that awnings result in cooling energy savings because they reduce solar gain through walls and windows on hot sunny days. Installing awnings provides significant savings on air cooling costs by reducing solar gain though walls and windows. The superior technology of Eclipse shading products can reduce heat radiation up to 90% and our shading products come with the highest commitment to quality and service. When you purchase Eclipse retractable awnings and increase the shade around your home, the indoors of your house will be cooler too. Easy to use Eclipse shading products reduce sunlight and glare, block UV rays, reduce indoor fading, and block light rain. Our exclusive products include retractable deck and patio awnings, retractable window and porch awnings, freestanding butterfly awnings, retractable exterior solar screens and retractable interior solar shades.
We at Eclipse Shading Systems are committed to solar protection and anticipate the needs of a constantly evolving market. Eclipse shading products are custom crafted from the finest parts, fabrics and threads from around the world. We take pride in our one-of-a-kind products, first-class customer service, and our carefully selected dealerships. Investing in the high quality of Eclipse Shading Systems is an investment in your home and future savings. Purchase Eclipse retractable awnings and you will enhance your lifestyle, making the time you relax at home more comfortable and protect yourself and your family from the harmful rays of the sun. Eclipse retractable awnings look great, add curb appeal to your home, are durable, and provide energy savings. Need we say more?
THE ULTIMATE SUNBLOCK™