If you live in a condo or apartment where they frown on outdoor shading awnings attached to exterior walls, interior solar shades are an excellent choice for you. Eclipse Shading Systems® provides energy -controlling shade and leaves you the beautiful view of the outdoor scenery, while you stay cool inside. Eclipse interior solar shades block out up to 99 percent of the sun's harmful ultra violet rays, keeping air conditioning costs down during the sunny months of the year. Solar shades also reduce the glare of the sun and keep your carpets and furniture from fading while providing an attractive addition to any room. All Eclipse interior solar shades are installed and operated from the inside and come with a 10 year warranty.
The Light Duty 3" Eclipse Interior Solar Shade is available in a wide array of Certified Green Guard® designer fabrics and comes in widths up to 10 feet and drops up to 9 feet. The Light Duty is available in white, vanilla, and brown frame finishes with manual pull chain and clutch or motorized operation.
The Heavy Duty 4" Eclipse shade works for larger windows and a variety of commercial settings. Available in widths up to 12 feet and drops up to 11 feet, with motorized or manual operation the Heavy Duty can be connected to any home or business automation system for your convenience. The Heavy Duty Eclipse solar shade is also available in Certified Green Guard® fabrics.
With two different fabrics to provide the comfort of shade and total privacy, the Eclipse DuoShade system is designed with an open weave to reduce heat gain and an additional fabric to create an opaque environment. You get the luxury of total privacy with complete room darkening optional. The Eclipse DuoShade is available from 18 inches to 102 inches with beaded chain operation or 28 inch to 168 inch motorized operation. Duo Shades come in drops of 12 inches to 120 inches.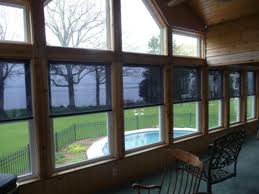 Eclipse customers tell it like it is. They like to let us know how Eclipse Shading Systems® have improved their lives. They rave about our products, warranty, professionalism, customer service, and installation. When you do a great job, your customers notice. Lose the heat and the glare and keep the view with Eclipse Shading Systems interior solar screens.
THE ULTIMATE SUNBLOCK™