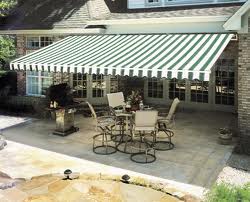 This summer sun is hot, hot, hot. With skyrocketing temperatures across the US, you have your air conditioning cranked up and are trying to stay inside as much as possible. Your pets are panting non-stop and the kids are fussy when you're not at the pool. The sunshine heats up your patio and comes in through the windows making it impossible to walk on the deck without shoes, being able to relax outside is not in the cards, and your thin cotton curtains don't do much to keep the indoors protected from the sun. Even your plants and shrubbery around the porch are looking sad and dry. You can't stay at the pool all the time and you miss sitting on your patio and relaxing. You've decided it's time to check into retractable awnings to keep your porch cooler and keep the beating sun from coming into your home, which means you can turn the AC down and reap some savings on your next energy bill too. Take the plunge and invest in Eclipse Shading Systems® for your home and the health of your family.
Attractive, durable, cost effective Eclipse shading products will turn your deck or patio into a staycation paradise and your family and friends will gather for cool times on sunny afternoons knowing that they can get shading protection from the skin damaging rays of the sun. You've probably noticed some fading of the fabric on your sofa and even the carpet. Eclipse shading will block the harsh sun from getting through the glass and fading your interior possessions, while keeping the indoors cooler. Eclipse Shading Systems offers a wide array of durable and stylish fabrics with the reliability of Eclipse high quality construction, making retractable awnings a valued addition to your home year round. When compared to no shading systems, Eclipse solar shading products can save an estimated 15-75% on cooling costs during the summer months.
At Eclipse, we are dedicated to providing the best in solar protection for you, your family, and your home. Eclipse Shading Systems is America's #1 source for quality, custom made, professionally installed retractable awnings & solar screens!
THE ULTIMATE SUNBLOCK™