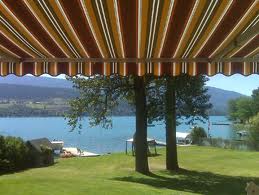 Instead of taking your usual vacation at the lake house, you have decided to make it a permanent move. Over the years, you've owned the property, little time and money has gone into improvements. After all, it was just your getaway place. Now it's time to make worthwhile investments in your lakefront home so that your residence is more comfortable. Let's begin with a quality shading system. Eclipse Shading Systems® has exactly what you're looking for with custom made retractable awnings and state of the art technology. Consult with your local authorized Eclipse retractable awnings dealer. We will help you select the shading system that is right for your lakefront home.
It is important to know that Eclipse retractable awnings can reduce heat gain in your home by up to 65% during peak sunlight hours when the sun's rays are direct, shining on windows facing south and up to 77% for windows facing west. This knowledge helps to determine where shading will offer the best advantage to your home for energy savings by reducing indoor temperatures by as much as 15 degrees and reducing the reflection of UV rays that travel through glass windows and cause damage to upholstery, carpets, and curtains.
You can add extra comfort to your relaxation by the lakefront dock with the addition of the fully motorized Eclipse Butterfly awning system, the freestanding double-sided retractable awning system that provides relief from the heat, protection from harmful UV rays, and even keeps you dry in light rain. Lakes create a moist environment that is notorious for bugs but installing the Eclipse E-Zip Side Retention Solar and Insect Screen system will keep uninvited guests away from you and your family because the E-Zip won't let them in!
THE ULTIMATE SUNBLOCK™