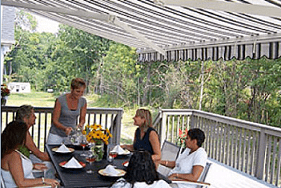 Having the family over for a big July 4th celebration can become an uncomfortable outdoor experience if you have no relief from the sun. Thirty people is a lot and you don't want everyone trooping in and out of the house to cool off. Opening and closing of the doors will run up your air conditioning bill and it's expensive enough without the coming and going traffic. It's time to purchase an awning to keep your backyard living and entertaining space cooler and more comfortable. Eclipse retractable awnings create an attractive look and are a welcome addition to the outdoor landscape of your home. Light wind and rain are no problem with retractable awnings because you're as protected from those elements as you are from the damaging UV rays of the sun.
Awnings should provide style, comfort, energy savings, protection from the sun, and be durable enough to last. With a wide selection of fabrics and looks, Eclipse offers you the best value for your dollar with consistent 5-star ratings on quality and customer service. We at Eclipse take our "Eclipse Excellence" promise seriously and will professionally guide you to the shading system that is best for you.
Eclipse customers say it best when they tell us how much their retractable awnings have improved their lives and given them an outdoor living oasis where they can enjoy time alone, time with their families, and friends while keeping air conditioning costs down by keeping the indoor temperatures cooler. Eclipse retractable awnings always look great and are easy to use. We know what makes a great retractable awning and so can you. There's an Eclipse dealer near you. You can have shade at the touch of a button with Eclipse Shading Systems products.
THE ULTIMATE SUNBLOCK™