Eclipse Butterfly awnings are motorized, double-sided shading systems that can be mounted anywhere you want sun protection. You can create a shady retreat near your house, down by the lake where you enjoy picnics, next to the swimming pool, or by the English garden. The Eclipse Shading Systems® Butterfly retractable awning will increase your living space and give your home added value.
Butterfly Awnings – Wherever Shade is Necessary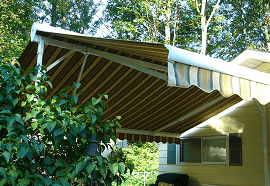 Even without traditional mounting surfaces, the galvanized steel frame posts of the Eclipse Butterfly two-sided retractable awning can be secured in concrete footing or mounted with surface based plates. Wherever you decide to place it, the Butterfly retractable awning is stationary once installed and creates a new outdoor room where you can relax, entertain, and get shading and solar protection from the damaging UV rays of the sun. And if you are outdoors when the rain starts, no worries. The Eclipse Butterfly awning is strong enough to withstand light rain and you will be able to get right back to your sunny day activities as soon as it stops.
When you purchase your new Eclipse Butterfly shading system, you can choose colors and designs that match your existing awnings and lawn furniture from the 100% acrylic fabrics of Sunbrella, Dickson, and Ferrari. Butterfly awnings come in widths of 16' and 20' with projections of 17' and 20'. When your Butterfly retractable awning is rolled up, it instantly and neatly stores itself, all at the touch of a button. You can have a new outdoor getaway wherever you want it with shade at the touch of a button, with the unique free-standing two-sided retractable Butterfly awning from Eclipse Shading Systems®.
THE ULTIMATE SUNBLOCK™