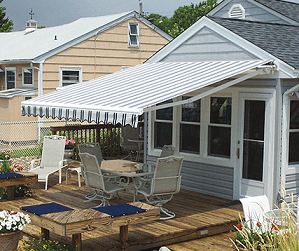 It's been five years since your old college friends have been able to get together for a little reunion. The backyard pool is open, bad mitten court set up, and the deck is laid out with great afternoon snacks and washbasins of brew.
The afternoon passes under the cooling shade of your Eclipse Shading Systems® retractable awning with great food, drink, stories, and laughter. Then your former college roomie, Joe who has become a big-time DIY kind of guy comments on your Eclipse retractable awning, saying something about how it can't be the same one you had the last time they were all there. After all, it has been five years.
Without giving your response a second thought, you tell Joe that this is a custom-made Eclipse retractable awning. It's clear that Joe doesn't get your point so you explain to him that while he has to run around replacing parts and spending time on the upkeep on his awnings, you have the Eclipse advantage of having purchased from the best retractable awnings in the world.
Sunbrella 100% acrylic fabrics, sewn with UV and weather resistant GORE® Tenara® thread are used in the manufacturing of Eclipse retractable awnings. Eclipse Shading Systems products are made to last with proper care. All you have to do is hose off your awnings, keep it dry and debris free to avoid mildew, and keep an eye out for any rust spots on the framework. High quality and value are important to you, so it's no wonder that your Eclipse awning fabric looks as good as it did the last time you had the guys over.
You had your last reunion over 5 years ago under this very same retractable awning. Your families have grown and so much has changed in your lives. What remains constant is the Eclipse retractable awning that's shading all of you from the sun while you get caught up with each other's lives. Guess who Joe's going to call when he gets home?
LIFE UNDER THE AWNING