What's a beautiful home without a well-maintained outdoor area? Thankfully, some of the prettiest upgrades are also budget-friendly. From the placement of plant containers to cheery paint colors, read on and click through to find pointers that will perk up your patio in no time.
Paint your furniture
Wind, rain and snow can give outdoor pieces a beating—revive them with a new finish. Sand your furniture to remove rust or flaked bits of paint (if needed), wash with a mildew-killing cleaner and prime before applying paint. And don't let the pieces dry where leaves or other debris will ruin your hard work: A breezy, covered area like the garage is best.

Have your plants and eat them, too
Flora-filled containers brighten a neglected corner and disguise gutters or outlets. Plant them with herbs or greens to get some fresh ingredients. Go with mint and basil, or chamomile and lemon verbena for teas; arugula and watercress for salads.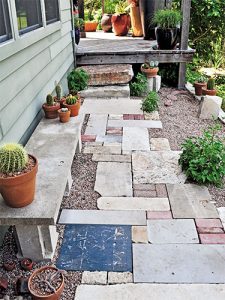 Stuck in a rut? Turn it into a pathway
Daily trips to the shed or compost pile take a toll on your lawn, so replace trodden-down grass with gravel, stepping stones or pavers. Or use an eclectic mix of found materials.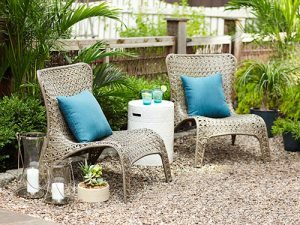 Layer in cozy touches
Don't sacrifice comfort to enjoy some fresh air. Plop cushions on wooden, wicker or wrought-iron seating to encourage outdoor lounging, stick a garden bench or side table next to a chair to hold your lemonade, and add lighting (hurricane candleholders on your tabletop, tiki torches in your flower beds) so you'll linger there into the evening.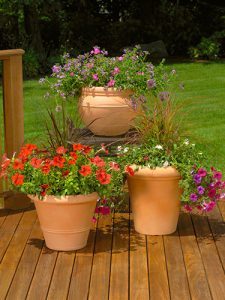 Play with containers
Beyond holding your flowers, planters can act as space dividers, sectioning off a nook for quiet time or defining your patio's edges. Use them to add some style: a classic touch with terracotta, a worldly vibe with a colorful woven basket or a playful tone with an old rain boot.