School is nearly over and the final Little League play offs are beginning. Your little guy had so much fun in his first year of playing on the team and made many new friends, some of whom will be attending the summer recreation program as well, so you decided to have an end-of-season backyard barbecue so they could enjoy some downtime together and get to know each other better. The two of you had fun making the invitations on the back porch, comfortably cooled in the heat of the day and protected from the damaging rays of the sun under your Eclipse retractable awning.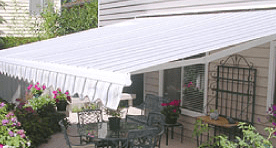 You chose to purchase a retractable awning and solar shades for your home from Eclipse Shading Systems® because only the best awnings in the world are good enough for your family! Eclipse customers experience our commitment to providing the best in solar protection. Eclipse Shading Systems dealerships can be found throughout the US and are carefully selected to share our high standards and deliver the promise of excellence to each consumer. Experience touch-of-a-button shading and solar protection for your family and your home. Your Eclipse retractable awning will reduce indoor heat gain and that will reduce your energy bills.
Your extended outdoor living space is the summertime place to relax, spend time with your family, and entertain friends including the baseball team. You have always been the best at scheduling activities so you planned the timing of this backyard shindig so that as soon as the hotdogs and hamburgers were gone and it was time for dessert, the ice cream truck was coming around the corner!
LIFE UNDER THE AWNING