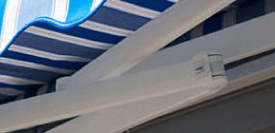 If you live in a condominium or town house and didn't think you could have a retractable awning on your home, the Eclipse Cross Arm provides you with the perfect shading solution. Your small deck or patio can have all the same luxurious shading advantages of other Eclipse Shading Systems® products at the size that works for your home.
The left shoulder of the Cross Arm is constructed with special adapters to drop them four inches below the right arm assembly so that the left arm passes below the right arm, not touching as the awning is retracting. Years of research went into the development of this revolutionary system. Tried, tested, and built to last, the Eclipse Cross Arm is designed and uniquely engineered to shade large projection areas that don't have much width.
Relax in comfort and style with the shade of Eclipse Shading Systems Cross Arm retractable awning system and have a cool summer retreat, regardless of the width of your deck. You can have all the benefits of Eclipse retractable awnings when you purchase the Cross Arm for your home with cooling shade and protection from the sun's harmful UV rays. And by reducing heat gain in your home by as much as 77% because the awning stops the heat from radiating through walls and windows, you will experience energy savings in your equipment and your wallet.
Small living spaces, large houses, and commercial buildings…whatever your style, Eclipse Shading Systems has you covered. When width space is limited and large projection coverage is needed, the Eclipse Cross Arm gives you the on demand solar protection you need.
THE ULTIMATE SUNBLOCK™