The Eclipse Lite retractable awning, nick named E-Lite for short, can be mounted under a soffit, on an outside wall, or by employing our specially designed brackets, can be mounted to the roof of your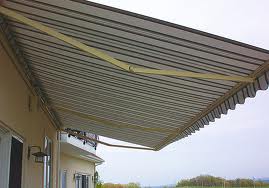 house. The Eclipse Shading Systems® Eclipse E-Lite motorized retractable awning is our most popular, most economical, and most affordable home awning system. We at Eclipse believe that everyone should be able to enjoy outdoor living. The Eclipse E-Lite motorized retractable awning, the little brother of the Eclipse, is manufactured with the same outstanding quality as our top of the line retractable awnings – the Eclipse and Total Eclipse.
This affordable retractable awnings by Eclipse is available in widths from 10 to 20 feet while the shading from the awning blocks up to 98% of harsh UV rays from the sun, also providing cooling for indoor rooms as well as protection from fading to your carpet and furniture. The E-Lite comes with a white powder coated frame finish and is available in a limited selection of high-quality solution-dyed fabrics. Check with your Eclipse Shading Systems dealer to learn the additional cost of selecting from over 200 solution-dyed acrylic fabrics, patterns, and colors. The E-Lite features Eclipse awning systems' Advanced Belt Technology.
The Eclipse Lite retractable awning is the most economical high quality solar shading system available anywhere and will provide you with the same extended outdoor living space, protection from the sun and light rain, and energy savings as other Eclipse Shading Systems retractable awnings. The simple push of a button commands your motorized retractable awning to roll up and self store neatly and attractively.
THE ULTIMATE SUNBLOCK™