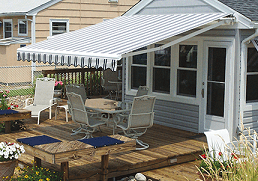 It's that awesome time of year when summer is in full swing and everyone is having fun. It's also the time of year when you walk up to the front door, take out your key and reach for the door handle….and burn yourself! From late morning until late afternoon, the sun's rays beat down on the entry side of your house and every time it happens, you recall that the year before you promised yourself you would do something about it before the next summer. Shading your home with the Eclipse Shading Systems® E-Lite retractable awning is one of the most affordable, most effective awnings you can purchase for your home. The E-Lite will give you the most function and style for your dollar.
When you purchase your E-Lite, you will get the same high quality performance as the Eclipse and the Total Eclipse. Shading with Eclipse retractable awnings blocks up to 98% of the sun's harmful UV rays and since the awning stops heat from radiating through the walls and windows, it will keep your indoor temperatures cooler too. When you don't have to run the air conditioning as often, you will instantly save money on your energy bills. That's a major plus in today's economy.
Your E-Lite retractable awning mounts to a wall, soffit, or roof and is our most popular, most economical motorized retractable awning. The E-Lite from Eclipse is where shading, quality, and affordability meet. Call your local Eclipse Shading Systems dealership. There's one near you!
THE ULTIMATE SUNBLOCK™