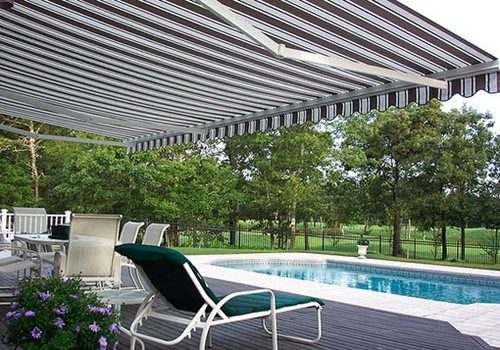 Life was hot before the Eclipse awning came into my life, and I don't mean the good kind of hot. I'm talking about the sun melting my flesh because it must be a thousand degrees outside, kind of hot. That all changed when I discovered the beauty of a retractable awning. Instead of stepping out onto my deck then running inside again hissing at the sun like a doomed vampire, I can actually go outside any enjoy the weather. Haven't you ever wanted to go outside on your deck or patio and just relax? Maybe you want to enjoy the sunshine while you read a book without having to wear sunglasses just to see the pages, or maybe you want to barbecue without roasting yourself in the process. Well, that's all possible when you bring a Shade Systems retractable cover into your life.
There are a wide variety of retractable awnings to fit your needs and the level of sun protection that you want for your space, but the one that works best for me is the cassette awning. You can view cassette awning pictures to see the type of retractable awning that I'm talking about. In the cassette awning pictures you'll see that this is the perfect type of awning for most needs. It retracts into a neat little cassette case when not in use, so it's almost as if it isn't there. One of the best things about this type of awning is that it has very long extendable arms, so it can be positioned in whatever length you want it to be without having to be fully put away or completely extended. If I want shade while my plants are getting some much needed sun, it's no problem.
There are also other Shade Systems retractable covers that you might be interested in exploring. For instance, one that I love is the exterior zipper shade. If you're not sure about what an exterior zipper shade is, picture an all-encompassing screen door that can be lifted and lowered when you need it, but this shade screen does more than keep the bugs out. It's perfect if you have a patio or porch that you want to keep cooler because it blocks the heat while still allowing you to enjoy the sunshine. It literally transforms your space from a hot, muggy mess into an inviting oasis. Basically, it allows you to be outside without actually having to endure the heat of being outside.