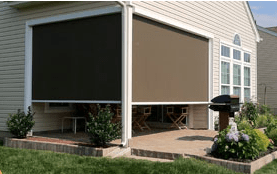 Outdoor retractable solar screens from Eclipse Shading Systems® intercept the sun at the source of its entry – the walls and windows. Eclipse retractable outdoor solar window screens can prevent radiation through the structure by deflecting the heat and the glare before it gets in, providing maximized cooling effects and reducing interior heat gain by as much as 77%.
When the indoor temperatures are kept cooler by blocking radiating heat, you are asking your air conditioning to go on less often, so you save money by reducing wear and tear on your system and reduce actual energy cooling costs by as much as 40%. That's a lot of savings!
Prevent the sun's glare from fading furniture upholstery, carpet, and possible melting of sensitive materials with exterior solar retractable screens Eclipse Shading Systems exterior solar protection screens create 100% sun block.
– Eclipse E-Zip Side Retention & Insect Screen – keep the bugs on the other side and get the UV protection you want while reducing indoor heat gain and sun glare
– Eclipse Vertical Drop Solar Screen – available with motorized or manual retraction
– Eclipse 4" Cassette Exterior Retractable Solar Screen – 100% sun block when you want it
Eclipse exterior retractable solar screens absorb and reflect up to 95% of the heat, glare, and UV rays of the sun. Eclipse Shading Systems invites you to enjoy the sun on your own terms by giving you control over solar protection with outdoor retractable screens that allow you to keep your view of the great outdoors, and lose the heat and glare. There's an Eclipse Shading Systems dealership near you!
THE ULTIMATE SUNBLOCK™