If you've noticed that you are not getting as many customers as usual, maybe it's because the sun is just too strong to be seated outdoors and enjoy a midday meal. The indoor seats by the windows are being avoided by customers as well. It's definitely time to check into commercial shading solutions from Eclipse Shading Systems®. You don't even have to know what you're looking for because your local Eclipse dealer will guide you every step of the way to help you select the solar protection system for your establishment that will keep your customers cool, comfortable, and happy. Increase your business and save on energy costs as well.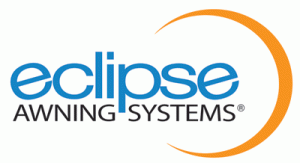 Eclipse retractable awnings for your commercial establishment will provide you the benefits of shade for your customers at the touch of a button. Our one-of-a-kind customized awnings will give you the full benefits of shading customers from the sun outside and keep the sun and heat from radiating through windows and walls to keep the indoors cooler too. . Studies by the American Society of Heating and Air Conditioning Engineers show that more than 20% of air conditioning use is due to loss of cooling through sundrenched windows. Retractable awnings help to reduce heat gain by as much as 77% with western exposure and as much as 65% with southern exposure.
You also have a wide selection of colors, designs, and graphics to create an image that tells customers who you are. Happy customers like to tell their friends what a great dining experience they had. Make your business more energy efficient and make it stand out with cool shade from Eclipse Shading Systems.
THE ULTIMATE SUNBLOCK™