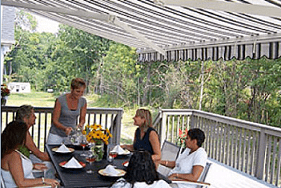 Cooling your home with air conditioning has become very costly the past few years. The challenge of keeping your home or business cooler on hot days involves preventing the sun's rays from being absorbed into the structure materials. When it is hot outdoors, indoor temperatures can become very uncomfortable without a way to cool them down. The heat of the sun radiates through walls and windows as well as the roof and the one natural way we can count on to stop those rays is with the shading of retractable awnings.
Heat can be reflected away for a building with lighter shades of siding or paint whereas dark colors absorb as much as 90% of the radiant energy of the sun. There are alternative roofing materials and other radiant barriers that can reduce some heat gain, but nothing provides you with cooling solar protection like Eclipse retractable awnings.
Eclipse Shading Systems® manufactures solar protection products that prevent the sun from radiating into your home by shielding the walls and windows. Retractable awnings can reduce indoor heat gain by as much as 77% and Eclipse interior and exterior solar screens block any direct sunlight from entering your home through the windows. Retractable awnings and solar screens also reduce sun glare indoors and prevent premature fading of fabrics and carpet.
Enjoy your outdoor living space knowing that you have chosen the natural energy saving shading options from Eclipse. Turn the air conditioning up and let it take a break while you rely on shading from Eclipse Shading Systems products for your home or business. Eclipse shading…doing what comes naturally.
THE ULTIMATE SUNBLOCK™