What could be better? The Eclipse SCII, is the next generation of retractable awnings from Eclipse Shading Systems®. The Eclipse SC and SCII are wall, soffit, or roof mount applications with attractive smooth, clean lines and powder-coated aluminum frames, stainless steel hardware, and 900 pounds of spring tension in the lateral arms. The clean lines and added protection of the cassette hood join the family of Eclipse retractable awnings boasting no unsightly poles and no costly seasonal take down with cooling shade at the touch of a button.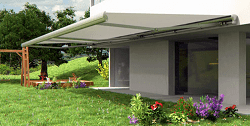 The Eclipse Semi Cassette has five projection ranges up to 11'6" and can be made in widths up to 22' wide, making it the perfect choice for your home and your business. The Eclipse SCII, big brother to the SC, offers increased shading protection with six projections up to 13' and widths up to 23', and of course, the Advanced Belt Technology (ABT) of Eclipse retractable awnings. The Eclipse Semi-Cassette and Eclipse Semi-Cassette II retractable awnings will give you and your family the protection from the sun's harmful UV rays that you want along with cooler temperatures outdoors and indoors, saving you money on your energy bills.
All Eclipse Shading Systems retractable awnings are custom made with choices of fabric and design, affordable, easy to operate, and expertly installed. Every Eclipse shading product comes with the promise of durability, reliability, and impeccable customer service.
Both the Eclipse SC and the Eclipse SCII come with an awesome 10-year warranty. And when the season is coming to an end and you are ready to store your Eclipse SC or Eclipse SCII, just clean the fabric off, dry it well, and push the button to retract and store in its own cassette until next year.
THE ULTIMATE SUNBLOCK™