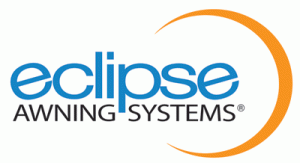 Welcome to the new generation of Eclipse, the Eclipse Semi Cassette II. We, at Eclipse Shading Systems® are always excited to bring you a new product that will offer you comfort as well as the peace of mind you get when you have high quality solar protection from damaging UV rays. Eclipse shading products create the perfect outdoor oasis with retractable awnings, window awnings, outdoor solar screens, indoor solar screens, and awning accessories.
The Eclipse Shading Systems' SCII has more width and projection ranges available than it's little brother, the Semi-Cassette. You can have your new customized Eclipse SCII as wide as 23' with six different projection ranges available up to 13'. Roof, wall, or soffit mount your SCII, like all Eclipse retractable awnings, will have no poles, and no seasonal switch out necessary.
Eclipse retractable awnings are made with your selection of colors and patterns – even your logo or company name from the finest 100% acrylic fabrics sewn with weather and UV resistant GORE Tenara thread. During inclement weather or whenever you are not using your SCII, your retractable awning fabric is totally protected inside its own casement.
The stainless steel hardware and your choice of Camel or White powder-coated aluminum frame along with a 10 year Warranty make the SCII another attractive, durable, and reliable retractable awning from Eclipse Shading System.
For your home, office building, or the corner café, Eclipse SCII will take care of your shading needs and it will take care of itself. Get used to the luxury of cooling shade at the touch of a button, yours from Eclipse Shading Systems.
THE ULTIMATE SUNBLOCK™