Along with the warmer weather come the annoying bugs! There just doesn't seem to be any escape from them. They seem to be out there looking for you – little ones, big ones, crawling bugs, and the ones that zoom and buzz through the air. Every other year you take a family vacation and every other year you enhance your outdoor living space and relax at home. Since this is the year you'll make an improvement outdoors, why not make this year's renovation something from Eclipse's line of shading systems that will keep the bugs away and give you a cool and comfortable outdoor room.
Th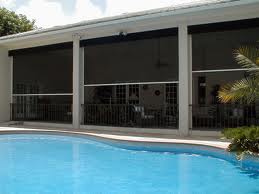 e Eclipse E-Zip Side Retention Solar and Insect Screen system is the newest member of the Eclipse Shading Systems family of shading products. Retractable outdoor solar shades give you the protection you need from pesky bugs and create additional summer living space for you and your family while providing added protection from damaging UV rays, reducing sun glare indoors, and keeping energy costs down. Those uninvited creatures will have to find someone else to 'bug' because the Eclipse insect screens won't let them in.
The Eclipse E-Zip Side Retention Solar and Insect Screen is available in widths up to 18 feet with 16 feet of drop space and includes a bottom track seal. The E-Zip has a custom designed motorized system with the option of each screen operating separately or all at once. Eclipse offers a wide selection of insect screen, solid acrylics, or open weave along with three matching frame finishes – white, brown, or desert sand. Spending time relaxing with friends or family or just by yourself is getting more comfortable all the time with shading solutions and bug screens from Eclipse.
THE ULTIMATE SUNBLOCK™