Stop the heat of the sun at the windows by not letting it in. Up to 14% of that heat radiates through the windows and raises the indoor temperatures. Eclipse solar screens absorb and reflect up to 95% of the heat, glare, and UV rays. Exterior solar window screens made by Eclipse intercept the sun and reduce heat gain by as much as 77% by deflecting the sun and its glare before they enter your home through the windows. Eclipse exterior solar screens will prevent the sun's rays from fading your furniture and carpets, and keep indoor temperatures cooler, which will reduce your energy use and keep costs down by as much as 60%. Eclipse Shading Systems exterior solar screens create 100% sun block and are so thin you will hardly notice they are there.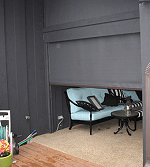 One of our newest and very popular outdoor retractable solar screens is the Eclipse E-Zip Side Retention and Insect Screen. This Eclipse model expands your outdoor living space and keeps the bugs on the other side of the screen. The E-Zip retractable outdoor solar screen will provide you with the UV protection you want and reduce indoor heat gain and sun glare. You may also select the Eclipse Vertical Drop Solar Screen, available with motorized or manual retraction or the Eclipse 4" Cassette Exterior Retractable Solar Screen, which gives you maximized cooling comfort, blocking the sun's rays, and reducing cooling costs up to 40%. This Eclipse exterior solar screen is also available with manual or motorized operation.
Enjoy the sun on your own terms. Keep the view. Lose the heat and glare. Find your local Eclipse Shading Systems dealer today and see our full line of solar screens. Discover the joy of controlling the effects of the heat of the sun on your home with Eclipse Shading Systems exterior solar screens.
THE ULTIMATE SUNBLOCK™