Everyone deserves to have a shady place they can go to cool off on sunny hot summer days, including your furry family members. It's just as natural for your pet as it is for you to need a shady place to go to escape the heat of the sun's rays. In fact, without shading systems, your porch, patio, or deck can become unusable during the heat of the day. If it is hot enough to burn your feet, it's not likely your cat or dog will feel comfortable walking on the surface either. If you leave your pets in the yard when you are off on an activity or at work all day, you don't want them to be stuck with no shade to escape to or a place where their outdoor water supply won't be exposed to the sun as well.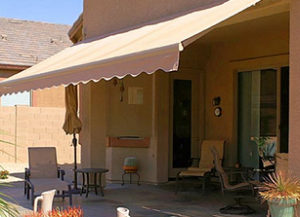 Even when indoors without shading systems on the glass, windows will heat up the inside space and can make you or your pet uncomfortable. A great benefit of awnings and solar screens is keeping the heat from radiating through walls and windows. Along with keeping the indoors cooler, lowering the cost of energy bills, keeping glare off the flat screen, preventing fading of carpets and upholstery, your pets and even your little goldfish will be happier in their bowl because the water temperature won't heat up. Shading and staying cool in the summer is a family affair.
Shading with Eclipse indoor solar screens, outdoor solar screens, and retractable awnings can reduce heat gain by as much as 77% and lower indoor temperatures by as much as 15 degrees. The many home shading options available from Eclipse Shading Systems are well known for keeping the heat of the sun where it belongs…outdoors and off your deck.
THE ULTIMATE SUNBLOCK™