Coming back from the beach to the beach house with the kids has been a welcome break since you got your retractable awning from Toms River Door & Window, your local authorized Eclipse Shading Systems® dealer. Relaxing over a little lunch and some board games is cool and comfortable thanks to Eclipse. After a nice long lunch break, it's back to the beach for a late afternoon swim.
Since 1971, Toms River Door & Window has been providing the best solar protection products with personalized customer service to customers in Monmouth & Ocean Counties. Solar protection for your home will keep the outdoors and the indoors cooler, making sure you're comfortable all the time and saving you money on energy bills. Solar shading will also prevent sun glare and protect your upholstering and carpet from fading.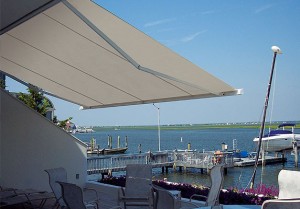 Later that night, after a family lobster dinner and some mini golfing fun, you came home to the back porch and a planned activity under your Eclipse retractable awning. With the glow of your Eclipse Lunar Lighting Package, you mixed a little plaster of Paris and the kids made "beach parties" from the shells they found that day on the beach. Next, you'll all have some ice cream for dessert and chat on the porch till bedtime, and if it gets a little chilly, you can always turn on the Eclipse Solar Beam Infrared Heater. You're all good with products from Eclipse.
Summer is on its way once more and it's time to plan shading for your home customized for your needs from Eclipse Shading Systems. Plan ahead this year and call your local Eclipse Shading Systems dealer. Make family memories under your Eclipse retractable awning.
LIFE UNDER THE AWNING