Let a smile be your Sunbrella with cool comfort fabrics for your Eclipse retractable shading system, your patio, and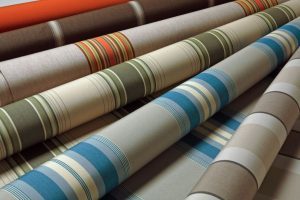 more! This summer, find relief from the heat with your Eclipse shading system awning fabrics from Sunbrella. The majority of Eclipse Shading Systems® are made with fabrics supplied by Sunbrella, manufactured by Glen Raven. Sunbrella brand fabrics are made in America and offer comfort on the hottest summer days and protection from the sun's harmful UV rays. Fabrics by Sunbrella used in shade applications have proven to provide up to 98% protection from the effects of the sun.
Sunbrella fabrics used in shading systems offer energy savings by blocking the sun's heat. The American Society of Heating and Air Conditioning Engineers reports that awnings can reduce heat gain by 55-65% on southern-facing windows and 72-77% on western exposure. Sunbrella fabrics are easy to clean, color fast, and made to last, bringing beauty and durability together in awnings and a wide variety of additional uses. Attractive matching Sunbrella fabrics are made to adorn your outdoor furniture, bringing design continuity to your living space. Sunbrella fabrics are worry-free moisture and stain resistant and complement indoor living with coordinating colors for upholstering sofas, chairs, throw pillows, and even beds for your pet.
Sunbrella fabrics have earned the "Seal of Recommendation" by the Skin Cancer Foundation. The Skin Cancer Foundation is the sole global organization concerned exclusively with cancer of the skin. When your retractable awning is made with Sunbrella's innovative fabrics, you will be assured that you and your family are protected from the dangers of the sun's rays. All Sunbrella fabrics are GREENGUARD certified, helping to protect our environment.
THE ULTIMATE SUNBLOCK™