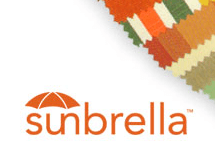 Sunbrella by Glen Raven offers long-lasting, 100% solution-dyed acrylic fabrics in colors and patterns to complement your home, lawn furniture, and landscaping. When your Eclipse retractable awning is made with Sunbrella fabric, you'll find that it's easy to clean, the colors last, and there are any number of pattern and color combinations that will allow you to make your personal style statement by coordinating your outdoor and indoor furniture. Learn more about what makes Sunbrella fabric such a great choice for your deck or patio awning.
Stylish Colors and Designs
When you choose a Sunbrella awning, you'll have your choice of over 200 different colors and patterns. That makes it so easy to coordinate a stylish look for your home's exterior with a matching or complementary look. And because the colors and designed to hold up well in any weather conditions, you won't experience fading over time.
Superior Sun Protection
Your custom-made Eclipse Shading Systems retractable awning has Sunbrella fabric that will be protect you and your family from the sun's UV rays. Sunbrella fabrics by Glen Raven provide up to 98% protective sun block outdoors. That type of sun protection is essential for lowering your risk of skin cancer while enjoying your outdoor spaces. In fact, Sunbrella fabric has the Seal of Recommendation from the Skin Cancer Foundation. If you want to prioritize your family's health by spending plenty of time out in the fresh air without constant sun exposure, choose a Sunbrella fabric awning from Eclipse Shading Systems.
Energy Efficiency
Did you know that using Sunbrella awnings can also help you save money on your energy bills? In fact, these fabrics are made with energy-efficient GREENGUARD material to shade your home's interior as well as it shades the exterior spaces. Sunbrella fabrics are able to block the sun's heat from radiating through walls and windows. The American Society of Heating and Air Conditioning Engineers reports that awnings can reduce heat gain indoors by as much as 77%. This allows you to keep your windows open and enjoy a beautiful view without having excess sun add heat to your home and require the air conditioning to run too often.
When it comes to your retractable awning fabric, you are ready for the worry-free moisture and stain resistant GREENGUARD certified material. Bring the same color theme of your Sunbrella awning fabric into the upholstery of your deck furniture! Secure your expanded outdoor living space, keep the indoor temperatures cooler, and save money on your energy bills. Escape from the heat to the cooling shade of your Sunbrella retractable awning by Eclipse Shading Systems. It's THE ULTIMATE SUNBLOCK™ for those who want to spend more time on their patio, deck or porch.