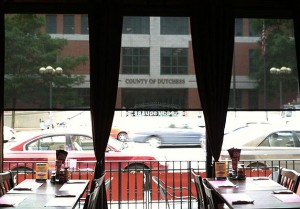 You are very happy with your promotion and excited about your new office because it's on the side of the building that has Eclipse awnings. The office is relatively new and not a huge corporate structure, but your boss is environmentally committed and she likes saving money on operating expenses. More solar radiation comes through glass than through walls so savings on energy bills from using less air conditioning can be substantial.
Retractable awnings help to reduce heat gain by as much as 77% with western exposure and as much as 65% with southern exposure, making your summer days at the office a lot more comfortable than they used to be. Eclipse retractable awnings contribute to a more efficient use of energy and improve your indoor environment as well.
In fact, it is time to call Eclipse Shading Systems and find out about getting retractable awnings for your home. Solar protection for the back deck and shading for the front porch will keep your home cooler and provide you with more comfortable outdoor living space. Call your local Eclipse Shading Systems dealership and explore the many options available to you for your home.
It's Friday. Everyone else has gone and you sit in your new office after the first week, push your chair back, put your feet up on the desk, loosen your tie, and smile. Yes, with the Eclipse retractable awning you are cool and comfortable. There is no afternoon heat build-up or any annoying sun glare to deal with on the computer screen or any other reflective objects. New office + Eclipse shading system = happy you!
LIFE UNDER THE AWNING