So you've decided it is time to make the most of your outdoor patio space and have started your search for the perfect patio furniture…congrats! You want to make it as comforting as inviting as possible, but you also don't want to go overboard on accessorizing or your budget! As you are shopping for outdoor furniture, here are some important facts and questions that you should keep in mind so you can get it right the first time: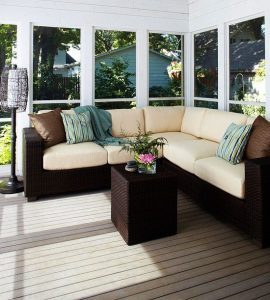 • Function: Consider the practical uses of an intended piece, along with your space requirements. For instance, is there room for a conversation seating area? Will you need a table and chairs for dining? Or do you have just the right amount of room for a chaise longue and potted plants? Could your outdoor space serve more than one purpose, providing a place for entertainment as well as a solitary retreat? Would the furniture be a permanent fixture, or should you consider lighter weight options for flexibility, storage, and easier movement?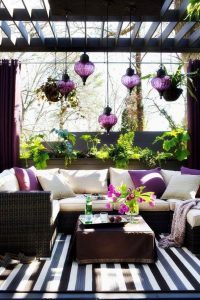 • Design: Quality design and craftsmanship continue to characterize the diverse furniture choices available. You can find simple or ornate options that blend well with historic, rustic, or contemporary settings–from the timelessness of wrought iron to the charm of wicker, from the sturdiness of teak to the lightweight durability of aluminum.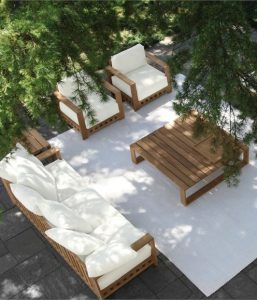 • Materials: Yes, beauty counts, but from a practical standpoint, you need furnishings built to withstand heavy wear and tear. From the foundation to the frame to the decorative cushions, the best choices are weather-resistant or weather friendly. Furniture pieces made of strong materials with long-lasting finishes are best, including hardwoods, wrought iron, aluminum, and all-weather wicker.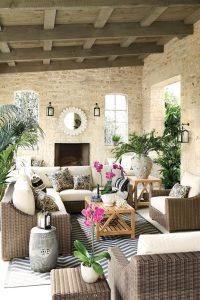 • Finishes: Many finishes–including oil-based paints (best because they work to repel water), lead patina, and powder-coated treatments–provide a beautiful presentation and varying degrees of protection from the elements.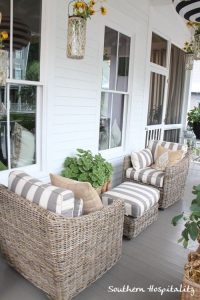 • Weight: Consider whether the furniture will be permanently placed in a specific location or continuously moved and adjusted. The weight of a piece makes all the difference. When choosing a chair, for example, be sure to sit in it for a while and, if possible, pick it up to see how heavy it is. Dining chairs and other furniture that will likely be moved regularly should be solid but not too heavy.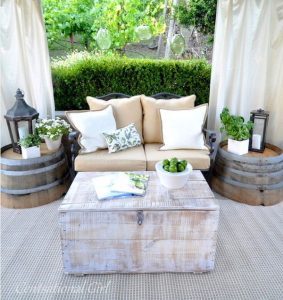 • Fabric: Decorative cushions and pillows may have the appearance of heavy canvas, but they should be fashioned from vinyl or acrylic fabric that dries quickly and resists mildew. Even the most water-resistant fabrics will break down when they sit outside for too long without use. No matter which fabric you choose, store cushions in a dry place if your patio or deck will not be used for some time.
Now you have the tools and information to equip you as you enjoy the exciting of decorating your outdoor living space – have fun with it!