You are a believer in a smart cocktail after a hard workweek so you take your stylish self in your very high heels to the tiny corner café near your home to chill for an hour and take your mind from a hectic schedule to a relaxing weekend. Sitting on the deck of the café, kicking off your shoes, enjoying your martini, and staying cool under the café's Eclipse retractable awning is your Friday afternoon ritual.
You only work half days on Fridays so stopping by the shaded outdoor café gives you the feeling of a mini vacation. Little did you know that the man of your dreams would be sitting at the next table, alone! You smiled. He said hello, and before long, you were at the same table taking your afternoon into dinner and an evening together. The company was perfect, the food was delicious, and the Eclipse awning kept the sun off your back until evening when the heaters came on. What could be more perfect?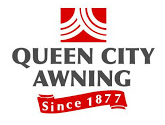 Queen City Awning in Cincinnati is your local authorized Eclipse Shading Systems® Dealer offering a selection of the E-Lite, The Eclipse retractable awning, or the SunRoof retractable canopy awning. Eclipse solar shading products are made with Sunbrella solutions dyed awning fabrics and Tenera (Gore Tex) sewing threads, guaranteed for the life of the fabric.
Available in motorized operation with touch of a button ease, Eclipse retractable awnings are the best awnings in the world and available at family owned and operated Queen City Awning for your commercial or residential setting. Enjoy the great outdoors with the luxury of cooling shade. Spring is the season of changing temperatures, increased sun intensity, and falling in love.
LIFE UNDER THE AWNING