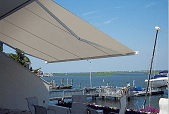 For your business or your backyard, Eclipse Shading Systems® has the solar protection solution with superior strength…Ultimate Eclipse. The Ultimate Eclipse is the strongest retractable awning available, blocking as much as 98% of the damaging UV rays of the sun. The strength of the Ultimate Eclipse comes from the vacuum injected shoulders, end brackets constructed with Teflon® coated stainless steel bushings and fasteners, and the patented double ball bearing elbow conceals the exclusive Advanced Belt Technology®.
Available in widths from five to forty feet and projections up to thirteen feet, the Ultimate Eclipse retractable awning, a true combination of form and function, is built on the industry's largest 50 x 50mm torsion bar. Eclipse Shading Systems® brings the finest and most durable retractable awning available to residential and commercial structures, with the industry's highest performance rating for safety and wind resistance filling Class III requirements.
When you cool the outdoors, you save money on indoor cooling as well by blocking the heat of the sun from radiating through walls and windows, saving you money on energy costs and helping to prevent fading of indoor upholstery and carpets.
You can select from over 200 patterns, colors, and styles of solution dyed acrylic fabric that can be protected from damage by the elements with a semi-cassette hood, available in sizes up to twenty-two feet. The cutting-edge technology of the Ultimate Eclipse is available in motorized or manual operation with a powder-coated frame.
The world class Ultimate Eclipse is the longest lasting, strongest built retractable awning in the industry. Get powerful shading on hot sunny days with the Ultimate Eclipse retractable awning – superior strength, superior performance only from Eclipse Shading Systems.
THE ULTIMATE SUNBLOCK™