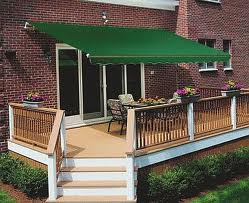 The choice is obvious to us. You want to install awnings on your porch, deck, or patio to stay a little cooler. It's always a good idea to educate yourself before purchasing an awning or other shading options for your home, so here are some facts to helping you on your journey to discovering that Eclipse retractable awnings are the one-of-a-kind best awnings in the world!
Once a stationary aluminum awning is installed, it cannot be altered. Retractable cloth awnings are versatile and can be rolled in or extended at the push of a button to keep cool in the shade, blocking harmful UV rays from your skin, and keep indoor space cooler by deflecting sun glare. The spread of fabric is larger than fixed awnings and retractable awnings provide greater insulation by not allowing the sun to pass through the glass, preventing fading of upholstery, carpet, and drapes. The retractable awnings have a rolling mechanism that is completely covered, not exposed to weather, and does not rust.
Aluminum is not made to reflect UV rays, so it absorbs the sun's rays and some of that heat is retained into the evening when the air begins to cool. Acrylic awning fabrics stay cool. Eclipse Shading Systems® creates custom-made awnings, partnering with manufacturers of synthetic, top coated fabrics that, with proper care, are protected from the environment and are made to last. Eclipse retractable awnings are made of durable water resistant fabrics that provide UV protection for you, your family and friends, and your home. You can select from a wide variety of colors and designs in awning fabric made by Glen Raven – Sunbrella® and Dickson and Soltis Textiles – Ferrari. And we use the strongest thread available – Gore Tenara.
Add style, functionality, reliability, durability, and savings to your home when you install Eclipse retractable awnings…built to last.
THE ULTIMATE SUNBLOCK™