Add the Eclipse Shading Systems® Drop Shade accessory to your retractable awning for additional solar protection and you can stop avoiding your outdoor retreat in the early mornings and late afternoons or anytime there's low sun exposure, spending as much time on your porch, deck, or patio as you like. The Eclipse Shading System Drop Shade accessory offers the same touch-of-a-button operation as your awning.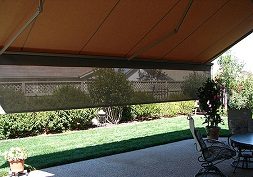 Enhance your Eclipse retractable awnings by extending the benefits of shading with the vertical Drop Shade. The Drop Shade attaches to the front of your Eclipse retractable awning and provides you with up to 39" of vertical shade with manual or motorized operation. The Eclipse Drop Shade is available in widths of 5" to 20" with projections up to 13'. The Eclipse Drop Shade is available in a selection of solid acrylic fabrics to match your Eclipse Shading Systems retractable awning or in open weave mesh with your choice of four different Qualicoat powder frame finishes with a limited lifetime warranty.
Get the extra sun protection you need and enjoy all your outdoor chill time knowing you have the full benefits of solar shading. Eclipse retractable awnings and solar shades guard against exposure to UV rays for yourself and your family and will keep your deck cooler. Retractable awnings and the Eclipse Drop Shade will keep the sun's heat from radiating through walls and windows, reducing indoor temperatures, eliminating glare and saving you money on your energy bills. Spoil yourself, have it all! The solar protection solution you need to perfect your backyard living space is the Eclipse Drop Shade accessory.
THE ULTIMATE SUNBLOCK™