Want to add value and comfort to your patio living space? Why not consider adding an outdoor fireplace to warm the place up? Between the functionality of keeping your guests nice and cozy on cool evenings and serving as a beautiful focal point for your outdoor entertaining area, a patio fireplace could be just the thing to get you (and your friends!) using your outdoor square footage to it's maximum potential!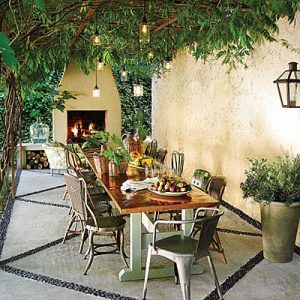 Inviting Patio
Humble materials can pull off a high-end look. To anchor the space, an outdoor fireplace was constructed from cinder blocks lined with fireproof brick and covered in stucco. And all the furniture and accessories that decorate the space were chosen to withstand the elements but age gracefully, resulting in an inviting spot for alfresco entertaining.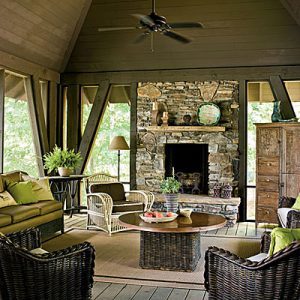 Natural Qualities
This natural stone outdoor fireplace and forest-like color scheme bring the outdoors into the porch and creates an inviting space for lounging on cool fall evenings.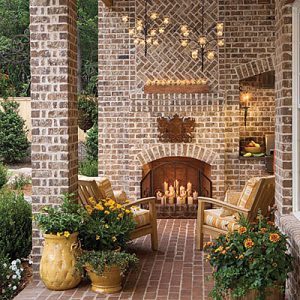 Romantic Getaway
For year-round lounging, there's an enclosed sitting area that boasts candle chandeliers and a fireplace. Filling the fireplace with candles instead of firewood gives this small seating area a very romantic feel.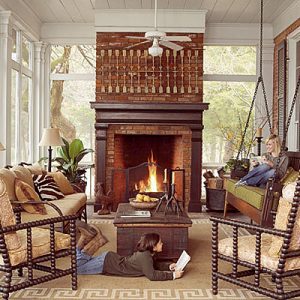 A Cozy Outdoor Space
A wood-burning outdoor fireplace is the center of attention in this porch, and dozing, reading, and chatting are the orders of the day. An indoor-outdoor rug softens and defines the gathering space.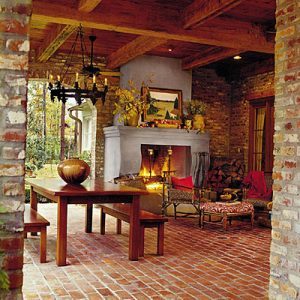 Create a Focal Point
Composed of a brick chimney, mantel, and firebox, this outdoor fireplace is covered with stucco as well. This touch not only distinguishes it from the surrounding brick walls, but it also makes a focal point. The hearth is raised for additional seating. Plus, by centering the fireplace between a brick opening and the exterior living room wall, it provided a nook for firewood.