It's not too late to experience "Eclipse Excellence" this summer. Haven't you and your family been uncomfortable long enough with the sun's rays beating down on the porch and heating the inside of your house, making the AC work extra hard to keep indoor temperatures comfortable? We custom craft Eclipse solar shading systems and offer an exclusive full line of retractable porch and window awnings, retractable interior and exterior solar shades, solar screens, and freestanding butterfly awnings. Expand your outdoor living space with the comfort of retractable awningsd and shading accessories that include the Eclipse Solar Beam Infrared Heater for cooler evenings, and the Lunar Eclipse Lighting Package.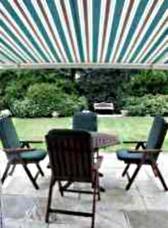 Enhance your lifestyle and control the effects of the sun on your home, by reducing indoor temperatures and lowering your cooling costs, protecting your family from damaging UV rays, and by enjoying more time outdoors relaxing and entertaining in cool comfort under your Eclipse retractable awning. Eclipse Shading Systems products are constructed with durable fabrics, threads, and structural technology that will stand the test of time. Eclipse engineers anticipate the needs of an evolving market and are committed to developing the best solar protection available for a modern market. We at Eclipse take pride in our one-of-a-kind products and our 5-Star overall rating and are dedicated to solar protection solutions, state of the art products, and customer service. Our reputation for affordable prices, outstanding customer service, and honesty precede us. Just ask anyone who has purchased an awning from an Eclipse dealer. They will tell you that we work together as a team to design, deliver and install the highest quality product at the best price and they thank us for years to come. This is "Eclipse Excellence" and we're fanatical about it!
Get your shade on and check out the great shading products that Eclipse has to offer. Make an investment in the high quality, technologically advanced Eclipse shading application that works for your needs. Eclipse has the shading system that is right for your deck, patio, porch, pool, or commercial structure. Go ahead. Have an Eclipse experience! There's an authorized Eclipse Shading Systems dealer near you.
THE ULTIMATE SUNBLOCK™