The sun and the heat of the season are only just beginning to affect your home as well as the time you spend relaxing on your porch or patio. Eclipse sun stoppers are easy to use, will provide the home shading and protection from UV rays you are looking for, keep light rain from interfering with your outdoor time, and reduce heat gain indoors, saving you money on energy bills. Home shading or covering the windows will lower indoor temperatures and reduce fading of carpets and furniture upholstering. Shading products from Eclipse Shading Systems are one of the best investments you can make in your home and your family.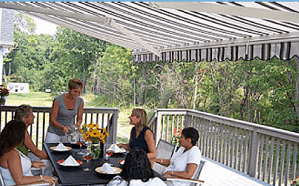 At Eclipse, we anticipate the solar protection needs of an evolving market and one-of-a-kind exclusive shading products include retractable deck and patio awnings, retractable window and porch awnings, the freestanding retractable Butterfly awning, SunRoof Plus, retractable exterior solar screens, and retractable interior solar shades. Eclipse home shading products are developed at our first-class production facility in Orange County, New York by engineers who are specialists in advanced solar protection solutions. Enhance your lifestyle further with Eclipse accessories like the Eclipse Drop Shade, Eclipse Lunar Lighting Package, Eclipse Solar Beam Infrared Heater, and Somfy electronic accessories such as the Somfy WireFree Sun Sensor, Somfy 3D WireFree Wind Sensor, or the Somfy Eolis Wind Sensor. You'll be wired in for push button comfort.
Eclipse manufactures and sells the best awnings in the world. We use the most technologically advanced parts and awning fabrics to make Eclipse products for your backyard oasis whether it's your patio, porch, pool area a cool and comfortable retreat for relaxing all summer long.
THE ULTIMATE SUNBLOCK™