Dinner under the stars is one of life's simple pleasures, and that's why we think creating a beautiful outdoor dining space shouldn't break the bank. With a few simple tweaks, you can transform your yard, patio or courtyard into a space fit for a feast. Plus, creating a little incentive to dine at home can save you a ton of money in the long run – the average American family spends $4,000 a year eating out at restaurants!
Here are six budget-friendly patio décor suggestions: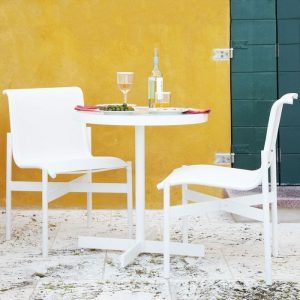 1. Know the role. Instead of letting your outdoor space become a social catchall zone, choose a specific purpose. Do you want it to be for dinner parties or slumber parties? Evening entertaining or daytime lounging? Make a decision and decorate accordingly.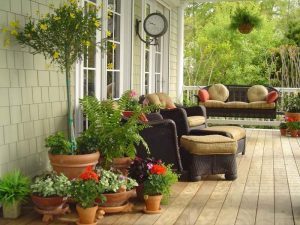 2. Plant perennials. Adding pots full of perennials to your outdoor living space is an easy, cost-effective way to inject some color and visual interest. Why perennials, instead of annuals? You only have to plant perennials once and then you'll get to enjoy them every year. Bonus: A well-manicured and maintained yard can increase a home's market value by up to 83 percent!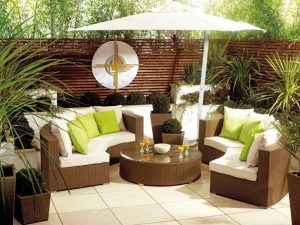 3. Go double duty. Opt for furniture pieces that can multitask, such as side tables that work for board game tournaments and ottomans that store outdoor essentials like throw blankets, sunscreen and bug spray.
4. Shop at the right time. If you need to grab some patio furniture, wait until after July 4th (prices take a dive after this major summer holiday). Tip: For the very best deals, visit stores like HomeGoods and Big Lots at the end of summer when they're trying to empty their inventory.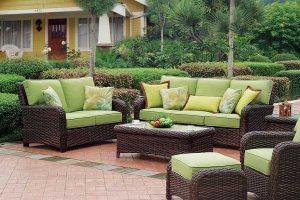 5. Go big. This may seem counterintuitive, but a few large pieces of furniture will stretch your dollar further than a collection of several small pieces. Plus, if you have limited outdoor living space, using large furniture instead of smaller pieces will prevent the area from feeling too cluttered.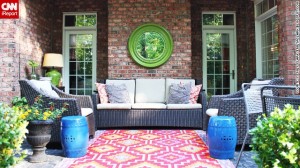 6. Add a rug. If you have a covered patio or deck, adding a large area rug is hands-down the biggest-impact décor move you can make. This one piece will tie the outdoor space together and make it feel complete. Tip: The indoor décor doesn't have to stop with a rug! Don't hesitate to bring things like lamps, flower vases and throw pillows outside, too.