Rain, rain, go away! Well at least the heavy rain. Nothing can ruin warm weather backyard fun like a little rain. If you purchase an awning from Eclipse Shading Systems® to keep your porch or patio cooler in sunny weather, it will pull double duty, protecting you and your family from light rain. Just move everyone onto the porch and party on! During heavy or wind-driven rain storms, make sure your awning is retracted to keep small puddles of rain from forming on top of the fabric, preventing future damage from stretching or staining.
Eclipse retractable awnings are made of heavy duty, durable hardware and fabrics. We use the highest quality rain proof acrylic fabrics from Sunbrella®, Glen Raven, Dickson, and Ferrari all sewn together with rain resistant UV protected GORE Tenara thread. Long lasting marine grade awning fabrics used in the construction of Eclipse awnings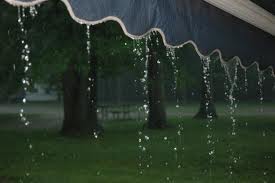 come with an eight-year warranty against excessive fading, mildew, and rot with additional lifetime warranties available. When you purchase your retractable awning, you can select from vibrant solid colors, sophisticated textures, and fun stripes to make your retractable awning an extended showpiece of your home.
Eclipse Shading Systems accessories are just as durable and long lasting as retractable awnings and shading systems. Constructed for durability and reliability, Eclipse shading products are made to last. Legendary Eclipse Shading Systems have 5-Star overall ratings for quality, affordability, and exceptional customer service. Eclipse retractable awnings are made of the highest quality materials, provide long lasting solar protection, and add to the beauty of your home.
THE ULTIMATE SUNBLOCK™