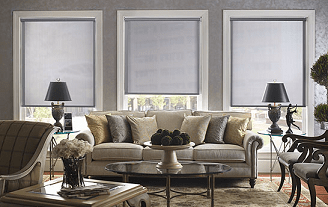 You can eliminate the intensity of the sun's radiation through the windows as well as reduce the glare with interior and exterior solar shades and solar screens from Eclipse Shading Systems®. As the sun goes higher in the sky, energy costs are going up too. Eclipse Shading Systems Solar screens absorb and reflect up to 95% of the heat of the sun away from your home or business. Solar solutions from Eclipse will keep your home cooler, and the high cost of air conditioning down.
Ideal for use in homes and commercial settings, Eclipse Shading Systems indoor retractable solar shades and solar screens are mounted and controlled from the inside and are available in a variety of sizes and designer fabrics. Interior solar shades are made of Certified GreenGuard® fabrics and are available in 3" lightweight, 4" heavy duty for larger windows and commercial use or the duo shade that provides a complete darkness privacy screen. You can give your porch or patio a new look with the Eclipse Vertical Drop Solar Screen, which can be mounted on the outside of any structure and provides 100% block out shade. Eclipse solar shades filter light as it enters the room, leaving your view intact and eliminating the heat and glare. Sunglasses for your windows…Eclipse Solar Shades and Solar Screens.
Eclipse Shading Systems dealerships are located throughout the US and share our commitment to solar protection, professionalism, and 5-star products and customer service. Find your local Eclipse dealer and find the shading option that is right for your home or business.
THE ULTIMATE SUNBLOCK™