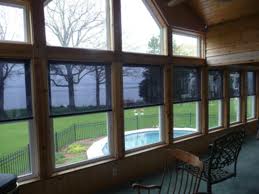 Interior roller shades offer you an on-demand shade solution that will keep the heat and damaging UV rays on the other side of the window. Eclipse interior shades will deflect up to 94.9% of the total solar energy and block 99% of the sun's UV rays from radiating through your windows, the single largest way energy is wasted because it travels through glass faster than through walls.
Eclipse roller shades are available in multiple sizes with selections of colors and blackout fabrics to go with your existing décor. Choose from Phifer, Mermet, or Ferrari roller fabrics. You will have year-round protection from sun glare to prevent your upholstery and carpet from fading and to keep the glare off the TV and computer screens.
– Eclipse Interior 3″ (Light Duty) Solar Shade: This Solar Shade is available in widths up to 10 feet with maximum drops up to 9 feet. The 3″ interior solar shades will reduce your cooling costs and keep the view free from glare and obstruction.
–Eclipse Interior 4″ (Heavy Duty) Solar Shade: Our Heavy Duty 4″ Interior Solar Shade is available in widths up to 12 feet with maximum drops up to 11 feet. The rugged Eclipse 4″ Interior Solar Shade is widely used for residential and commercial applications.
–Eclipse Duo Retractable Interior Shade: This unique system has two different types of fabric that are individually controlled. The first provides solar protection while maintaining your view, The second is a privacy screen that also provides complete darkness.
Interior roller shades from Eclipse can be touch-of-a-button or manually operated. Make your home or commercial space more comfortable and more energy efficient with interior mounted roller shades. Filter the light that enters your home, lose the glare, and retain your view by keeping the sun where it belongs…outdoors. Enjoy the privacy and cooling comfort of your home or business with Eclipse interior roller shades.
THE ULTIMATE SUNBLOCK™