When it comes to looking out for our children, we know to be extra careful with their skin protection.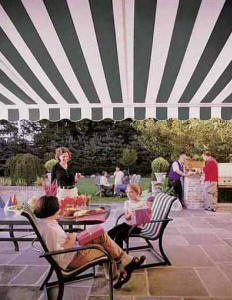 The American Academy of Dermatology recommends limiting your child's exposure to these harmful rays with sunscreen, protective clothing, and shading. Statistics show that one in five Americans will get skin cancer over the course of a lifetime. It is important to use a sunscreen of at least 30 on your child's skin when going outside even on cloudy days. Sunscreen, hats, and clothing that cover arms and legs are not enough. It is most important to seek extra shade from mid morning to late afternoon. Insurance for the best protection is a quality shading system, such as Eclipse Retractable awnings. Eclipse Shading Systems® provides protection from the damaging UV rays of the sun.
Eclipse retractable awnings, window awnings, solar screens, and the freestanding Eclipse Butterfly motorized retractable awning block up to 98% of the sun's dangerous UV rays and supply significant cooling. With the increasing strength of UV radiation, the versatility of Eclipse retractable awnings, exterior screens, and interior solar screens will give you the protection you need for your entire family while allowing you to continue to enjoy the beauty of your yard and home without the worry of UV exposure. So every time you roll out your Eclipse awning, blocking harsh and damaging UV rays, you are rolling out extra protection for your family. Eclipse Shading Systems® is a proud financial and volunteer contributor to the American Cancer Society® in the communities where we live and work.
THE ULTIMATE SUNBLOCK™