Sweet 16 parties are coming back in style, especially when you have a swimming pool in your backyard. The gang is here and even with a dozen young ladies splashing, gossiping, and of course texting on the side, it's always relaxing to be outdoors. You are someone who is very conscious of sun protection as well as preserving energy. You think that the best place to relax outdoors is under your Eclipse Shading Systems retractable awning and you know that shading the outside of your home will keep temperatures cooler indoors too.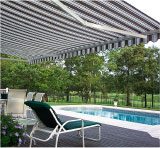 You have had your Eclipse awnings on the front porch and the back deck and this year you installed the new two-sided freestanding Butterfly awning to gives you the same shading edge for hanging out next to the swimming pool. It was fun selecting coordinating matching fabrics to go with your other Eclipse awnings. The Butterfly is a freestanding retractable awning that can be mounted almost anywhere using surface base plates or posts submerged into concrete footings. The gang gathers for a hang out lunch under the Eclipse Butterfly awning and then it's back in the pool.
All you have to do is touch a button and the fully motorized Eclipse Butterfly awning system will open to provide you with the solar shading you've come to expect from Eclipse. When your Butterfly awning is not in use, the fabric easily retracts and is instantly stored inside its own protective hood. Today has been a lot of fun for all the girls and for you. With Eclipse retractable awning, you're never at a loss when it comes to hosting. The back yard oasis is the "go to" location for the whole family and Eclipse is the "go to" place for shading systems.
LIFE UNDER THE AWNING