Considering a home improvement project this spring?
It's that time of year when you're considering the home improvement projects you talked about all winter. One of the most cost effective, attractive, and functional home improvement projects homeowners can make is the addition of retractable awnings. Eclipse retractable awnings, solar screens, and accessories will add additional comfortable outdoor living space for you and your family while providing protection from the harmful UV rays of the sun. The benefits of awnings include having a more energy efficient home. In summer months, shading products by Eclipse will reduce heat gain indoors by as much as 77%. When the heat of the sun can't radiate through the walls and windows, the indoors will stay cooler and reduce the cost of your energy bills. Retractable awnings will eliminate up to 94% of the glare from sunlight and prevent your carpet, curtains, and upholstery from fading.
Consider an Eclipse retractable awning or solar screen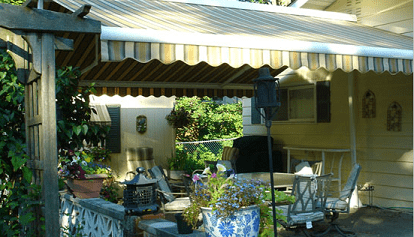 Eclipse retractable awnings are durable, affordable and energy efficient and enhance the look and comfort of your home. Architecturally pleasing wide selections of weather proof acrylic fabrics, colors, and designs are available to match your home, lawn furniture, and landscaping. Eclipse Shading Systems Dealerships are conveniently located throughout the US and our awning experts will help you select the perfect shading solution for your extended outdoor living space. Make an investment in the future of your home with best awnings in the marketplace. Eclipse retractable awnings for your home or business are practical and stylish and will keep you cooler, provide protection from the rays of the sun, and save you money for many, many years to come. Enjoy the season and all the benefits of shading with Eclipse Shading Systems products.
THE ULTIMATE SUNBLOCK™