Your front porch is the first thing guest will see, and a huge part of your street cred (aka, curb appeal), but it rarely appears at the top of cleaning to-do lists. While the inside of your home probably should take priority, it's important to clean your porch at least once a year.
Here's a no-nonsense guide to making your porch pretty: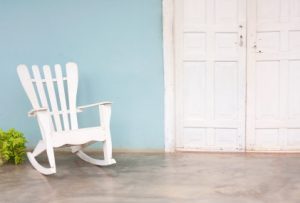 1. Move Everything
Anything that isn't nailed down has gotsta go! Move everything out to the yard or into your house – you want your porch to be a blank canvas prepped for cleaning. Tip: If you have some heavy stuff out there, make this task faster and safer by grabbing a buddy to help you move.
2. Tackle Cobwebs
Cobwebs are a quick way to turn a porch from welcoming to frightening. Even if spiders don't currently call your porch home, their old webs are a bad look. Grab a broom and knock down any cobwebs clinging to your porch corners.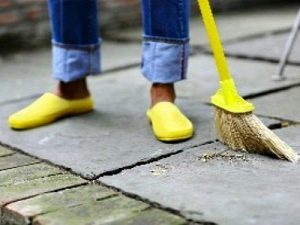 3. Sweep Away Dust
Is your broom still in your hand from tackling cobwebs? Good! It's time to sweep. Do a quick once-over of your porch, making sure to sweep away any visible dirt and dust. Tip: To make this a quick job, skip the dustpan. A little dirt in your yard is fine, so just sweep it straight off of the porch!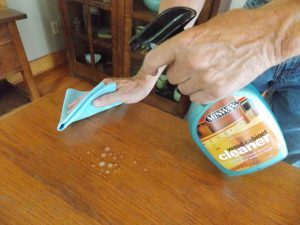 4. Wipe Down Wood
Wipe down anything wood with a moist cloth. Railings, the front door, shutters and sconces all need a quick wipe. If you haven't done this in a while (or ever), you may have your work cut out for you on this step.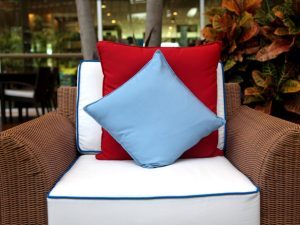 5. Clean the Furniture
Fill a pail or bucket with equal parts mild dish soap and warm water, grab a sponge and head out to the yard. It's time to clean the porch furniture. Give everything a good wipe down (assuming you have outdoor furniture that's safe to clean with soap and water), paying special attention to stains and noticeable dirt. Use a hose to rinse away any soap residue. Note: If you have wrought iron furniture, your set is going to need special care to prevent rust.
6. Mop the Floor
If you're going to skip a step, this is the one to move past. But if your porch is stained, it's worth having a dance with Mr. Mop.
7. Put Everything Back in Place
Once the porch is dry, put all of your furniture back where it belongs. Give your porch some personality by adding a few indoor furniture pieces, and you're done!